Sports & Adventure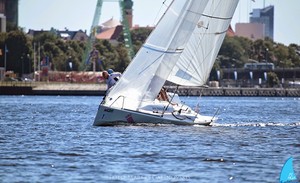 Private sporty sailing trip
If you would like to have a real sailing experience, have more action and sporty activity, tray it together with Latvian Sailing Team.
We offer you ~3-hour sailing trip on sport boat PLATU 25 (Farr Design sport boat with 7.5m legth). This will be not only sporty activity, but also a tour with possibility to see our capital Riga from unusual point of view – industrial part of our city, and different life on the River Daugava outside the center.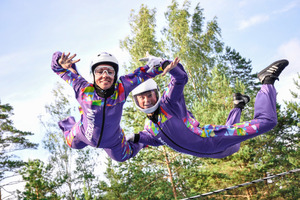 Fly Like a Bird at the Aerodium (in Sigulda)
The Aerodium is a vertical wind tunnel where visitors are suspended on a gust of air blowing upwards at a speed of 180–200 km/h.
You can fly like a bird, held up in midair by the wind blowing from below.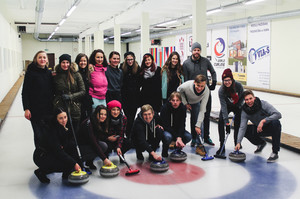 Slide and Sweep
Host your company's curling championships in Riga!
Curling is a fun and challenging activity: players slide a heavy stone down a stretch of ice while their teammates use special brooms to sweep the surface, trying to make the stone stop right in the center of a circle. You can also challenge one of the many Latvian curling teams, whose members will be more than happy to compete.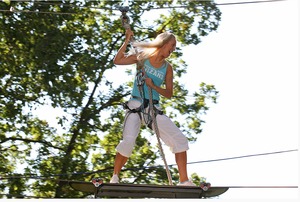 Challenge Yourself and Climb Higher (in Sigulda)
The best way to test your ambition outside the office is to challenge yourself and climb higher!
You'll have the unique opportunity to test yourself by prancing through the treetops like a wildcat. Participants can test their abilities either alone or in teams.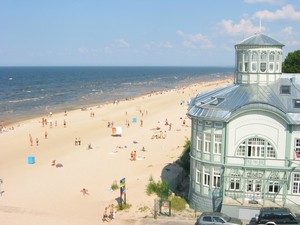 Amber Hunting (On the Seashore)
The coast is full of million-year-old treasures—amber stones that were once as valuable as gold.
Challenge your colleagues to a competition and see who can find the most amber; then turn your discoveries into a beautiful necklace. End your day of amber hunting with a fishermen's picnic on the seashore, sampling freshly smoked fish and beer from local breweries.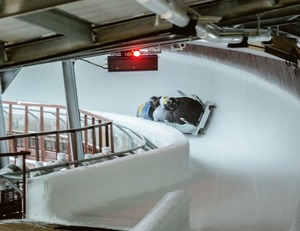 Sliding at High Speeds (Sigulda)
Have an exciting competition at the artificial luge and bobsled track in Sigulda.
Race down the track in a slower rubber bobsled in winter or a faster bobsled on wheels in summer. In the winter, you can experience a real full-speed bobsled ride together with an experienced pilot.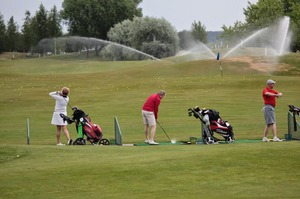 Golfing at the City's Frontier (Marupe & Vecmilgravis)
Just a few minutes from downtown Riga, you will find two different 18-hole golf courses in an idyllic setting.
Organize a partners' tournament or practice your game on the training range—anything is possible. You can finish your event in style with a gourmet meal at the clubhouse restaurant.