Tallink Hotel Riga awarded the Green Key eco-label among the first in Latvia's hospitality sector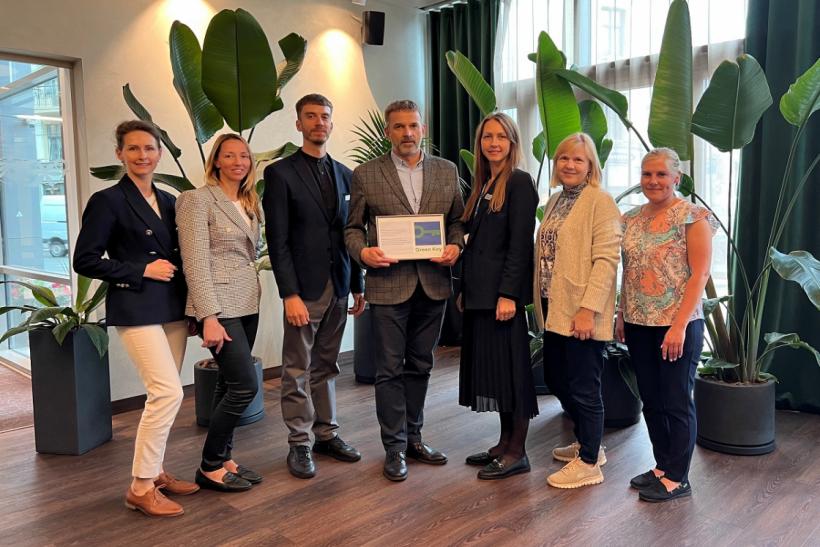 Tallink Grupp has announced that Tallink Hotel Riga, located in the city centre of the Latvian capital, operated by the company's subsidiary Tallink Hotels, has been awarded the international Green Key eco-label. The Green Key is awarded to businesses in the tourism sector who in their activities are dedicated to sustainable operations and environmental responsibility.
The aim of the Green Key eco-label is to achieve a balance between quality, comfort and environmentally friendly operations within the tourism sector. The Green Key standard sets several criteria related to the label which are mandatory to the participating hospitality sector businesses which also affect the visitor, such as requirements related to water usage, cleaning, waste, energy and food as well as landscape maintenance and purchases.
Commenting on Tallink Hotel Riga being awarded the Green Key eco-label, Ave Svarts, Member of the Board of Tallink Hotels, said:
 
"For us, at Tallink Hotels, the Green Key certificate is an important indication that we are indeed on the right track with our activities as a socially and environmentally responsible business. Also, it is equally important to our guests to know that by choosing to stay with us, they too can make a positive difference to the environment and reduce their carbon footprint."
"Preserving our natural environment is reflected in many different choices we make from day to day. For example, we are monitoring very carefully the energy consumption of our hotels and are working very diligently on minimising the food waste – in this area our guests can also contribute and play a big part. There are of course many other steps we are taking across the whole sustainability spectrum," Svarts said.
The Tallink Hotel Riga is the third hotel operated by the Tallink Hotels which has been awarded the Green Key eco-label. Tallink Hotels plans to apply for the Green Key eco-label for all the company's four hotels, with its fourth hotel, Tallink Express Hotel, located in Tallinn, currently undergoing the Green Key application process. Two of the company's hotels, Tallink City Hotel and the Tallink Spa & Conference Hotel, located in Estonian capital were awarded the eco-label earlier this year.
Green Key, launched in 1994, it is the leading standard for excellence in the field of environmental responsibility and sustainable operations within the tourism industry. Today, over 4000 businesses from more than 60 countries worldwide have been awarded the label.
Latvia is a member of the Green Key quality certification system since 2008. In Latvia, awarding process of the Green Key certificate is coordinated by the Foundation for environmental education.
Read more about the Green Key eco-label: https://www.greenkey.global.
Read more about Tallink Hotels: https://hotels.tallink.com