airBaltic Passengers Can Buy Sustainable Aviation Fuel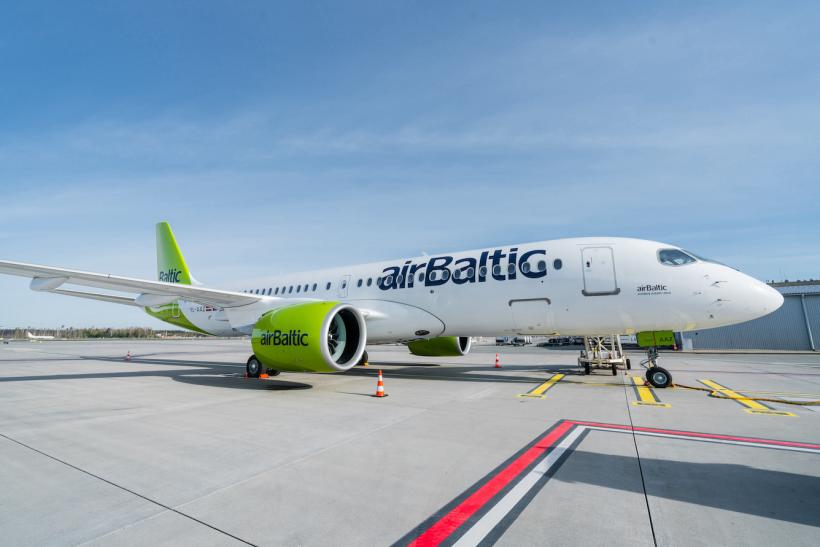 In order to promote awareness of the increasing importance of sustainable aviation fuel (SAF) in air traffic and in achieving climate neutrality goals, the Latvian national airline airBaltic will gradually offer passengers the opportunity to reduce their impact on the environment or the so-called ecological footprint.
Starting from May 24, passengers will have the opportunity to contribute to a sustainable future by voluntarily adding a small portion of SAF to their flights. This can be done by purchasing SAF along with their bookings on the homepage airBaltic.com. The price of SAF will vary depending on the ticket type, with prices starting from EUR 2.99 per person, per flight. If a booking includes multiple passengers and/or flights (including connecting flights), the SAF fee will be applied to each flight and each passenger.
Passengers who prefer to be serviced at travel agencies will also have the option to purchase SAF along with their airline tickets or add it to their reservation later.
airBaltic Club members will have the opportunity of using their accumulated loyalty points to purchase an unlimited amount of SAF kilograms at the airBaltic Club rewards shop: https://spend.airbalticclub.com
airBaltic will procure and consume the contributed fuel within 12 months' time.
Sustainable aviation fuel is a fuel that complies with aviation requirements and certification, is produced in a sustainable way, and uses raw materials alternative to crude oil in its production (additional information: https://bit.ly/3OgIcQU). One kilogram of SAF produces up to 80% less CO2 emissions over the full product life cycle compared to the same amount of fossil fuels. There are still a number of challenges in SAF production, such as insufficient production capacity and high production costs. As a result, this fuel is up to three times more expensive than fossil aviation fuel – which is the fuel that is used most in aviation.
Zita Barānova, Head of Sustainability at airBaltic: "airBaltic has been using a small portion of sustainable aviation fuel since 2020, and in 2022, approximately 4.4% of the fuel contained SAF supplements. Noticing the number of passengers for whom sustainability issues are important and who want to reduce their impact on the environment is increasing, we decided to give passengers an opportunity to add a small part of SAF to their flights already now. Together, we are thus creating a growing demand for more sustainable aviation fuel, which is one of the key tools on the road to climate-neutral aviation."
Taking into account the commitment of the aviation industry, its professional organizations and the European Union to comprehensively implement sustainable activities and goals, in 2022 the board of airBaltic approved the company's strategic environmental, social and management sustainability priorities. Among them is a commitment to achieve carbon neutrality by 2050.
airBaltic provides flights to more than 70 destinations from Riga, Tallinn, Vilnius and Tampere, offering connections to a wide range of destinations in the airline's route network in Europe, Scandinavia, the CIS and the Middle East. A complete schedule of airBaltic flights and tickets are available on the company's homepage at www.airbaltic.com.
airBaltic in brief:
airBaltic connects the Baltic region with over 70 destinations in Europe, the Middle East, and the CIS. Over the last 27 years airBaltic has developed as a strong, profitable and internationally respected airline, which employs around 2 300 employees. airBaltic is by far the best known international brand of Latvia and responsible for more than 2.5% of the Latvian GDP. airBaltic operates 41 Airbus A220-300 aircraft. airBaltic has received numerous international awards for excellence and innovative services. Skytrax has awarded Latvian airline airBaltic a five–star COVID-19 safety rating. In addition, airBaltic is one of the Top twenty airlines for COVID-19 compliance by the safety, product, and COVID-19 rating agency Airlineratings.com. In 2018 and 2019 airBaltic received the ATW Airline Industry Achievement Award as the Market Leader of the Year. In addition, in 2019 airBaltic received Sector Leadership Award by Airline Business. airBaltic is a joint stock company that was established in 1995. Its primary shareholder is the Latvian state, which holds 97.97% of the stock, while the rest of the shareholders hold 2.03%.
For further information, please contact:
airBaltic Corporate Communication Unit
A/S Air Baltic Corporation
Email: pr@airbaltic.com