airBaltic and Turkish Airlines start codeshare cooperation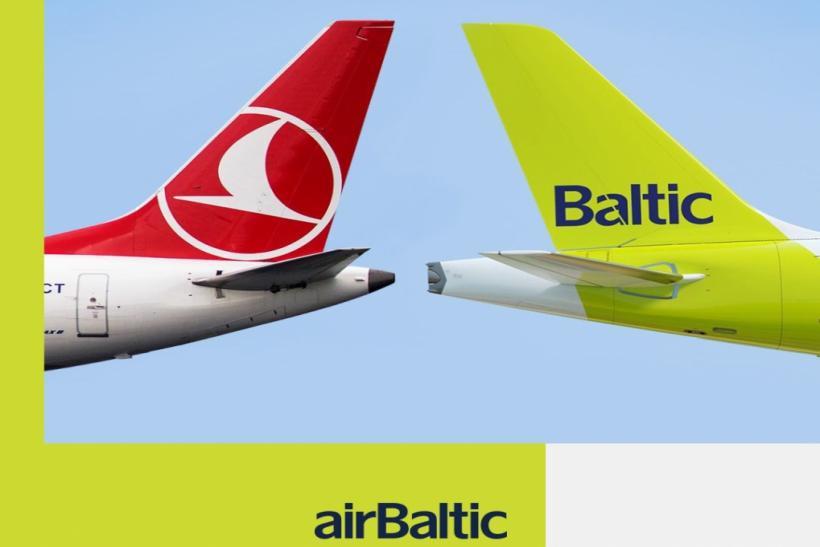 The Latvian airline airBaltic and the national flag carrier of Türkiye – Turkish Airlines – jointly announce the commencement of a codeshare partnership, effective as of May 1, 2023. The agreement enables both carriers to provide more flexibility to their passengers on direct flights between Türkiye and Latvia.
airBaltic President and CEO Martin Gauss: "We are glad to enter a codeshare agreement with our partners – Turkish Airlines – on our new flights between Riga, Latvia and Istanbul, Türkiye. This partnership enables local Baltic travellers to benefit from the wide network of Turkish Airlines globally and the local travellers in Türkiye are now able to enjoy a great variety of airBaltic's destinations in Europe and beyond. We are looking forward to a successful, long-standing collaboration together."
Turkish Airlines' CEO Mr. Bilal Ekşi: "We are excited about our new partnership with airBaltic that both our corporate and leisure customers will benefit from. We look forward to welcoming more visitors from Latvia in our unique geography that cradled many civilizations throughout history, while also encouraging travel from Türkiye to the fascinating city of Riga."
Within the scope of the codeshare cooperation, airBaltic and Turkish Airlines place their marketing flight numbers on each Riga-Istanbul flight and vice versa. The codeshare agreement attracts an increasing number of passengers and allows customers of both carriers to benefit from seamless connectivity via their hubs.
As announced previously, this summer season airBaltic will launch its highest-ever number of new routes in a single season so far – a total of 20 new routes from Riga, Tallinn, Vilnius, and Tampere. Among the new destinations is also Istanbul, to which airBaltic launched four weekly flights on April 2, 2023.
airBaltic in brief:
airBaltic (Air Baltic Corporation AS) connects the Baltic region with over 70 destinations in Europe, the Middle East, and the CIS. Over the last 27 years airBaltic has developed as a strong, profitable and internationally respected airline, which employs more than 2 300 employees. airBaltic is by far the best known international brand of Latvia and responsible for more than 2.5% of the Latvian GDP. airBaltic operates 41 Airbus A220-300 aircraft. airBaltic has received numerous international awards for excellence and innovative services. Skytrax has awarded Latvian airline airBaltic a five–star COVID-19 safety rating. In addition, airBaltic is one of the Top twenty airlines for COVID-19 compliance by the safety, product, and COVID-19 rating agency Airlineratings.com. In 2018 and 2019 airBaltic received the ATW Airline Industry Achievement Award as the Market Leader of the Year. In addition, in 2019 airBaltic received Sector Leadership Award by Airline Business. airBaltic is a joint stock company that was established in 1995. Its primary shareholder is the Latvian state, which holds 97.96% of the stock, while the rest of the shareholders hold 2.04%.
About Turkish Airlines:
Established in 1933 with a fleet of five aircraft, Star Alliance member Turkish Airlines has a fleet of 400 (passenger and cargo) aircraft flying to 342 worldwide destinations as 289 international and 53 domestic in 128 countries. More information about Turkish Airlines can be found on its official website www.turkishairlines.com or its social media accounts on Facebook, Twitter, YouTube, LinkedIn, and Instagram.